It's the most wonderful time of the year…

Until of course, you realise that you haven't done your festive season shopping yet, and the holidays are right around the corner. Don't fret though – we've got your back! Check out our holiday shopping tips  on how to shop better this festive season.
Our ho-ho-holiday shopping tips 
We share five nifty holiday shopping tips to make your festive season gift dash more enjoyable (and wallet-friendly) this year!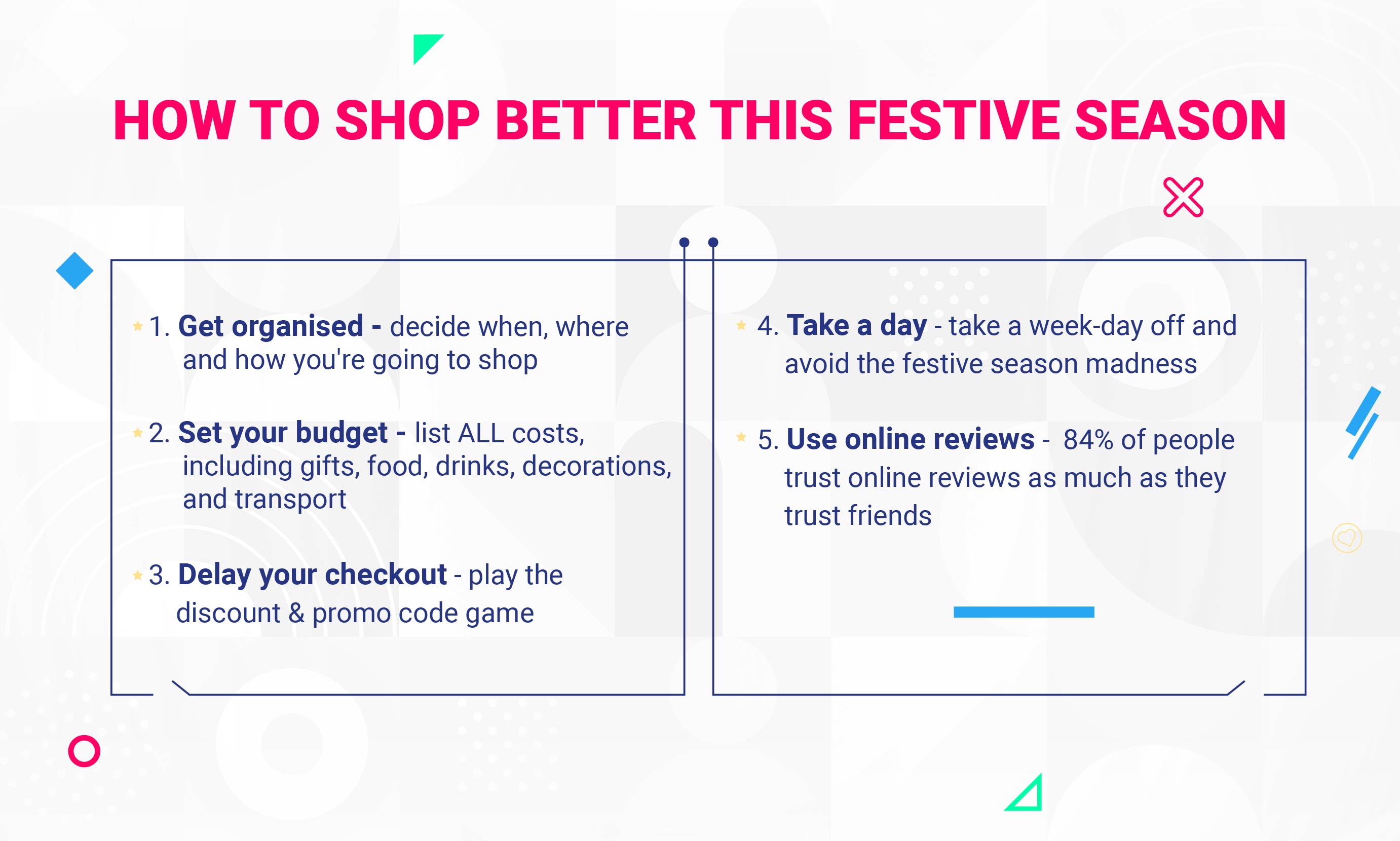 1. Get organised
However much of a hurry you're in, the most important step is to get organised. Spare fifteen minutes, and create a consolidated list of the people you need to buy gifts for, including family and friends, co-workers and employees.
Once you have a clear idea of who makes the list, you can start deciding what you are getting for each individual, which retailers offer the item in question, and where you can get the best price.
2. Set your budget
This time of year, we're all in our 'feels', so the temptation to spend a fortune on our loved ones is hard to resist. Defining just how much you're going to spend over the festive season allows you to actually enjoy the holidays, knowing that you've got your expenses covered. Remember, January can be tough from a financial perspective, so don't put yourself under unnecessary gifting pressure.
Don't forget to list all your other related costs such as food, decorations, wrapping paper and Christmas cards. If you're having people over for an extended stay, remember to factor in potentially higher than normal utility bills and transport costs.
If you're struggling for gift ideas, hop online and search for affordable gifting solutions, or if appropriate, just ask your friends and family – you might be surprised to find that they'd rather not get another pair of socks this year!
3. Delay your checkout
This sneaky little trick is for the veteran, festive season online shopper. Online stores often monitor their site visitors and are keenly aware of how far down the purchasing and decision-making funnel their customers are, especially during the festive season.

So, when you visit an online store this month, fill your cart with your selected items and then sit back and wait for a day or two. Sometimes, the retailer or company in question will reach out to you with a promo code or discounted offer on your potential purchases to try and prompt you into completing the transaction. This tip is especially effective when shopping on major retail platforms with the resources to engage with customers on a large scale.
4. Take a day off
As we all know, the festive season shopping rush can be crazy, especially in the days and weeks leading up to Christmas.

To avoid the madness, strongly consider taking a week-day off from your work or school commitments before everyone takes their annual holiday.

This will allow you to quickly complete your festive season shopping and obligations in one day, without being trampled underfoot or spending hour upon frustrating hour waiting in interminable lines. Spending an 'off' day dealing with admin and shopping may seem a waste, but avoiding a stressful festive shopping experience is well worth it!
5. Use reviews to make the right decisions

Your most valuable port of call when evaluating what to purchase, and from whom, is online reviews. Millions of South Africans, just like you, have gone through the festive season shopping gauntlet and have come out the other side as wiser consumers.
Find a trusted review platform with a track record of accuracy, and take advantage of this collected knowledge. Make sure to read a good number of reviews to get a solid idea of each retail experience on offer, and then compare these reviews to the businesses overall star rating to get the full picture. 
Don't forget to compare older reviews with newer ones to understand whether the businesses you are considering have consistently improved and are taking customer feedback to heart.
Remember, 84% of people trust online reviews as much as they trust recommendations from friends. This is because reviewers often have no agenda and are simply presenting an honest account of their experiences.
Pay it forward
So there you have it – our consolidated list of tips and tricks to ensure you shop better this holiday shopping season. Once you're done with the festive season shopping grind, pay it forward and leave a review of your experiences to help the next consumer trying to find the right solution for their retail needs!