When looking for ideas on how to write reviews that get results, you have to think about the person who will be reading your review. Most South Africans understand that businesses are run by people. They make mistakes, drop the ball and occasionally just get it completely wrong.
However, as the consumer, you still have the right to get a reply and resolution to your issue. But it starts with crafting the right kind of review to ensure you get the desired results. So, here are our top tips on how to write reviews to help guide you.
✔️ Tip 1: Be Cool
Few things are more likely to take us from 0 to 100 faster than bad, lazy or indifferent service. The idea that this business, where you're spending your hard-earned money and time, has no interest in providing decent service or products can be infuriating.
Take a few deep breaths and give yourself some time to cool off before you unleash your fury. Chances are, this really wasn't THE WORST ****ING SERVICE YOU'VE EVER RECEIVED, nor did it COMPLETELY TRAUMATISE YOUR FAMILY.
The best reviews require a certain level of chill. Nothing good ever comes from being angry on the internet, as any social media comments section will attest to. So, take a few deep breaths before you start typing that review. 
✔️ Tip 2: Pick Your Platform
From social media and online stores to online reviews and message boards — your angry message is just one click away from being published to the world.
This type of access is often too tempting to ignore, especially when you're upset with a particular business, and often leads to angry consumers spamming the business's pages with unproductive and unhelpful messages.
If you want a beneficial interaction instead of just having a Karen moment, you should use a trusted online review platform like Hellopeter to make your voice heard. 
✔️ Tip 3: Get Your Facts Straight
A company's leadership can't recognise and rectify an error without knowing the facts. When considering writing a review, ensure you collate as much relevant information as possible. 
For example, dates, times and specific branches, receipts, warranties and reference numbers, the names of the staff you dealt with, and the line manager on duty. All digital communications and email chains will help to build and contextualise your case.
✔️ Tip 4: Keep it Civil
There are very few situations that genuinely warrant name-calling, nastiness or general incivility, and complaining to a brand online, just isn't one of them. 
Not to make excuses, but remember that customer service consultants have nothing to do with the original incident in question and are often dealing with many other consumers, and some are not as reasonable and calm as you!
If your goal is to genuinely seek recompense or resolution, park the potty mouth and be polite. Treat the business and its employees with kindness and patience (regardless of how much you want to tear your hair out) – chances are, they will address your issue with the same energy. 
For more insight into what constitutes civility in an online review context, check out Hellopeter's guidelines.
✔️ Tip 5: Get Straight to The Point
Haibo, nobody got time for a thesis! Look, just tell them about what happened, where and why you're unhappy instead of narrating your entire life story. 
Make it detailed but to the point – you dined at X on X, the burger bun was stale, and the patty resembled a hockey puck.
✔️ Tip 6: 

Help Them Help You
Everyone enjoys the occasional moan, especially when it's warranted. However, if your goal in writing your review is for the business to 'make it right', then ensure your review helps them to help you by offering constructive criticism they can act on.
Explain concisely what the issue is, and then explain from your perspective what would be a satisfactory outcome or the (reasonable) actions you would like the business to take in addressing your issue.
This provides an actionable framework within which your dialogue with the business can take place and hopefully ensures everyone involved in the conversation is on the same page.
✔️ Tip 7: 

Provide Feedback
Especially when dealing with an issue that may take time to resolve, or are engaged in a subscription or long-term relationship with a business, ensure you consistently update your review, publicly detailing each step of your journey to resolution with the business in question.  
This ensures the business's leadership constantly has you and your issue top of mind and offers other South Africans insight into how businesses deal with customer complaints quickly and efficiently.
✔️ Tip 8: Proofread Before Publishing 
Make it as easy as possible for a business to address your review by proofreading before publishing. 
Ensure names and places are spelt correctly, your grammar communicates the core of your gripe, and there are no typos that may deflect or change what you are trying to communicate. Further, your complaint is more likely to be taken seriously if it reflects a fraction of forethought. 
✔️ Tip 9: Publish When It's Fresh
Make sure to write your review as soon as possible after the event in question. This way, you and the business benefit from easily recalled facts and events. Trying to annotate events well after the fact often leads to mistakes and disagreements about exactly what happened.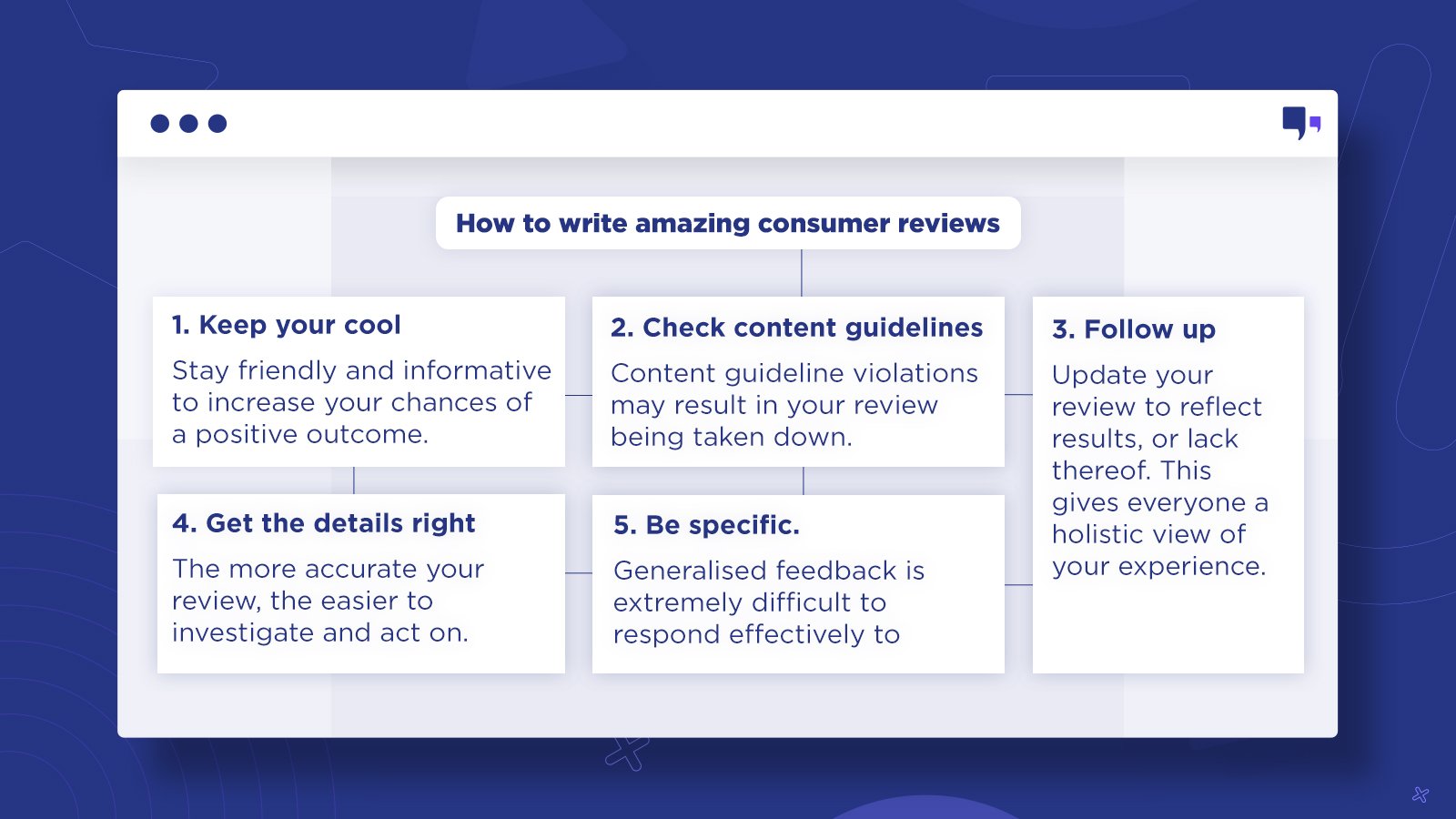 ✔️ 10. Make Sure Your Review Ticks The Boxes
Yes, anyone can post a review on Hellopeter. However, that does not mean that we don't have certain guidelines you have to endure to. Here are some of the main ones to take note of:
Try your best to be truthful and only publish honest reviews about real, recent experiences 

Ensure you're being precise and focus on the specific business, product or service you're reviewing

Be fair by not reviewing your own business or competitors 

Remain civil by not posting content that's 

defamatory

 or abusive

Stay smart by not posting identifying or personal information
Write a Review That Matters Today 
Hellopeter has helped over one million consumers make better choices. Did you have an experience you'd like to tell us about? Leave us a review here.