You asked, so we listened! We're happy to introduce our new-and-improved category and ranking system so that you can find and review businesses easier than ever before. 
Let's take a closer look at what's changed and how it will help you.
What's Different?
We understand how valuable your time is, and we want to make sure you can find the right businesses quickly and effortlessly. Plus, we believe the top businesses in Mzansi who are actively managing their reputation should get the recognition they deserve.
That's why we've revised our search system so you can find, compare and engage with businesses on Hellopeter more simply. By focusing on creating more accurate industry categories and subcategories, you can now discover businesses that offer precisely what you're looking for.
How Does This Help Me?
Say goodbye to endless searching and hello to efficient decision-making.
Previously, when searching for a specific service, you would have to scroll through businesses on our site and then visit their website to see if they offer what you need. Now you can filter what you're looking for by industry and then more narrow sub-categories.
For example, if you want to find a beauty salon and is looking for hair styling specifically, you can filter accordingly. This more accurate filter helps you find what you're looking for when searching on Hellopeter to make well-informed purchasing decisions.
How Does It Work?
Click on our industries tab to view a list of primary industry categories matching the business you're looking for. Clicking on a primary category will reveal a range of more specific subcategories within that industry. These subcategories then help you narrow your search to find exactly what you need.
As you explore businesses within your chosen category, you'll find their Hellopeter pages highlighting their offerings. And by looking at the reviews, ratings, and more, it will help you make your final decision.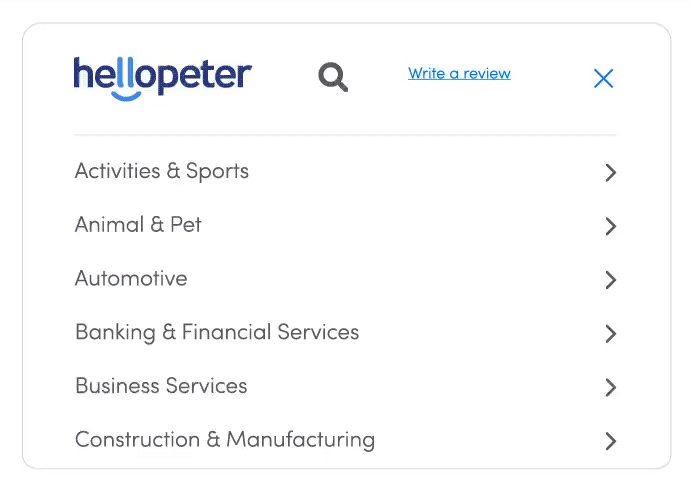 If you're a South African business, you can read more about how this new update will help you rank higher in your specific niche in our blog here. It's your time to shine!
Try it Out
Visit Hellopeter to see our new categories and subcategories in action. We're excited to bring you this upgrade and look forward to helping you connect with the best businesses out there!