Right now, someone in South Africa could be planning to scam you. Unfortunately, ever-evolving technology enables scamsters to adapt their methods continually. Therefore, businesses and customers must also stay alert to new scams targeting South Africans.
We break down some of the top scams you should look out for in South Africa right now.
The South African scam landscape 
According to the Southern African Prevention Service (SAFPS), fraud impersonation increased by 337% in 2021, and crypto and Ponzi schemes cost South Africans more than R54 Billion. And as online retail continues to grow, so do these numbers.
The head of fraud at FNB Commercial, Roshan Jelal states: "it has become imperative for businesses to constantly keep up to date with the latest fraud scams and trends to avoid being victims. Moreover, most importantly, businesses should invest time, effort, and resources in equipping their employees to detect fraud efficiently and effectively."
Here are some of the most common scams in Mzansi right now and some tips on how to avoid falling into the trap.
1. Advance-fee scam
This scam is when someone claims to provide a service or product but expects you to pay a fee upfront. You should always be cautious about this and do thorough research on trusted review platforms like Hellopeter before making any financial commitments prior to receiving a product or service.
How to avoid the advance-fee scam
Do your research on trusted review platforms like Hellopeter

Go to the business's website and social media channels to see whether they exist and are active

Always be careful of paying upfront when it's your first time using the supplier

Double-check their contact details and physical address to see if they're a legitimate business

Consider signing a Service Level Agreement before making a payment to offer some legal protection
2. 
ATM scam
Some South Africans accept help from strangers when trying to withdraw money from an ATM. As a result, the scamster might swap your card with another one or see your PIN, which could give them remote access to your account.
How to avoid the ATM scam
Never accept help from strangers at an ATM

Remain vigilant of anyone around you while using an ATM

Never give your card or PIN to anyone else 
3. Job Scam
Unfortunately, due to our high unemployment rate, job scams are prevalent in our country. Usually, scamsters will post a 'too-good-to-be-true' opportunity on job portals. Then, when applicants respond, the scamsters ask them to meet up and rob them. Alternatively, they ask for an application/processing fee or request personal documents like your ID to steal your identity.
How to avoid the job scam
Do your research to check that the company has a website and active social media channels

Check trusted online review platforms like Hellopeter 

Be cautious of job posts where the salary does not match the work, where there's an urgency to hire immediately or if they request any fee

Only meet up in a public place or at their office. Check the address and whether the business exists before agreeing to meet up

If you never applied for the position, ask them where they got your contact details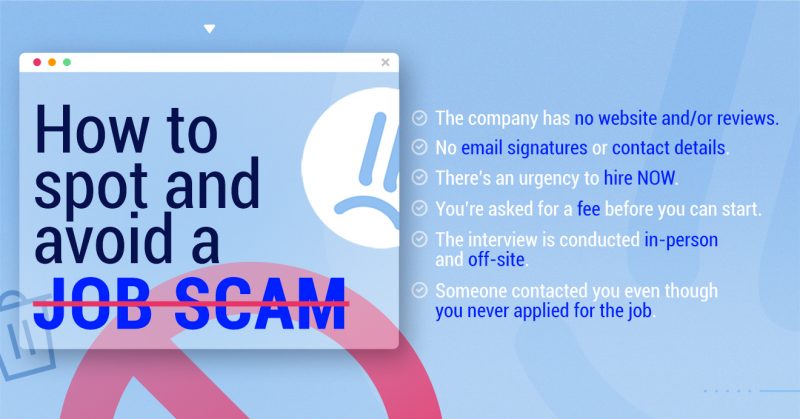 4. Remote access scam
This scam is when someone tries to access your cellphone or laptop device through remote access tools. They will often try to contact you on your phone or via email, claiming to be your internet or financial service provider. They will tell you that there has been suspicious activity or that you have a virus, and then they will ask you to give them access through apps like Teamviewer. This will share your screen with them, giving them access to everything on your device.
How to avoid the remote access scam
Never allow someone to access your device remotely

Don't share your passwords and login details with anyone

Don't use public WiFi to access your banking app or sensitive personal data

Delete any unused access tools like Teamviewer if it's still on your devices

Be careful when opening suspicious emails

Keep your anti-virus and firewalls updated

Contact your service provider directly if you've encountered any suspicious activity
5. Charity scam
Don't let scamsters tug at your heartstrings by claiming they're from a charity. They often research your interests on social media, contacting you and asking you to donate.
How to avoid the charity scam
Always research the charity first by checking their website and online social media presence

Be careful of cash donations or untraceable donations like gift cards, or if they push you to donate immediately 

Look for a physical address and contact details and verify these by calling them and checking their location on Google Maps

Check for online reviews or social media posts warning others about the charity 
6. Debt collection scam
This scam is when someone tries to get access to your financial records. Be cautious when someone contacts you claiming to be a court or business representative and demanding payment for an outstanding debt or if someone claims to be a debt review service agency.
How to avoid the debt collection scam
Be on high alert if the person demands immediate payment and threatens you with legal action

Block the call if someone is repeatedly calling you, is calling at odd hours, and is being rude with no telephone etiquette 

Alert your financial institution if you notice they seem to have access to private information about your financial records or activity
Investment scam
If something sounds too good to be true, it's probably a scam. Be careful of any quick fix or opportunity of a lifetime that someone tries to sell to you. These scamsters will often use complicated jargon or false testimonials to convince you. There are plenty of WhatsApp community 'stokvels' to crypto-currency 'experts' out there, and you should really be careful as these are more often than not simply a scam.
How to avoid the investment scam
If someone is consistently calling or emailing you to invest and there's some time pressure, it's likely a scam

Check the company's registration details. If they're registered in another country, such as those with lax financial and digital fraud processes, you should be extra careful

Do your research by checking that the agent is registered with the relevant local professional accrediting body

Check their online reviews but be wary if they're all suspiciously positive. As South Africa's #1 online review platform, we can attest that very few business, especially financial services providers, have only positive reviews!
8. Lost phone scam
Scamsters will SMS you asking you to click on a link to find your stolen or lost phone even though you have your phone with you. When you click on it, they can gain access to valuable personal information.
How to avoid the lost phone scam
Never click on any suspicious links or open attachments from anyone you don't know

Never download any apps you don't know when someone asks you to

Always contact your cellular network provider if you suspect suspicious activity on your account
9. Competition scam
We've all received a dodgy SMS or email claiming that we've won a competition we never entered. This is a very common scam that many South Africans fall victim to. You will often be asked to contact them via a specific number to claim your prize. When you do, they might ask you to pay a small amount for tax purposes before they can give you the prize money. However, they simply disappear after you've paid them.
How to avoid the competition scam
Never trust any messages claiming you won something, especially when you can't recall entering the giveaway
Be careful of inbox messages on Instagram or other social media platforms when it's not coming from the business's main account
Don't accept calls from suspicious numbers and never make any upfront payments to 'claim' your prize
Stay Alert Mzansi
Remember that when something seems too good to be true, it more than likely is! Rather be cautious to avoid any regret. 
It often comes down to doing a simple search on hellopeter.com and Google to research the service providers you're considering.
Hellopeter-registered businesses are organised by Trust Index, Industry Ranking and Net Promoter Score for full transparency, ensuring you have the information and insight needed to steer clear of scams and fake businesses.